Utilize Google Ads Performance Max to improve your performance. Here Waqar World provides all you require to make PMax successful. Waqar World has been testing Google Ads Performance Max campaigns. Here is the information you need to properly configure Performance Max campaigns.
Performance Max: What is it?
Performance is a single campaign type that uses all of Google's channels to display ads:
YouTube
Display
Search
Shopping
Feed discovery
Gmail
Maps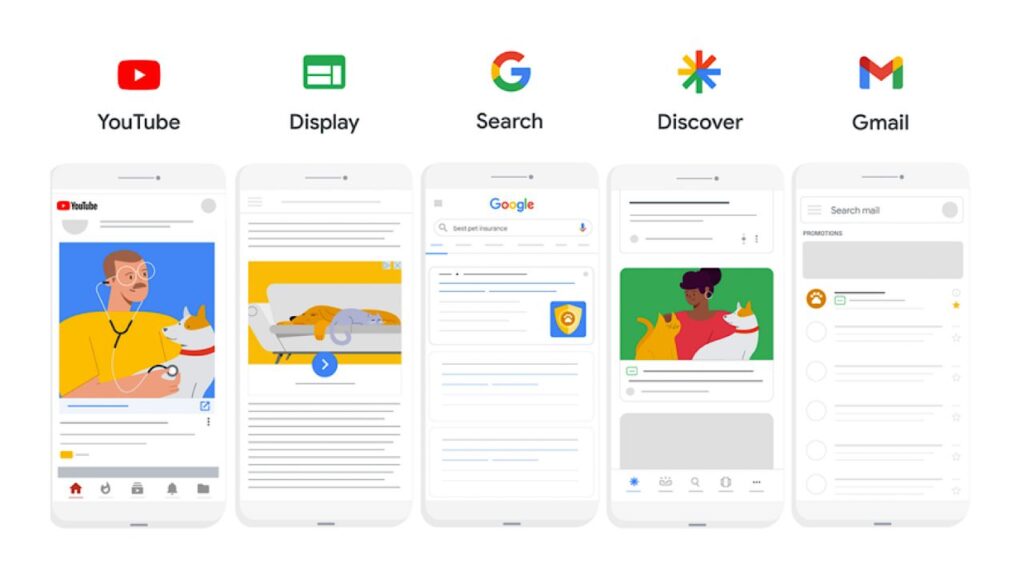 What Distinguishes Performance Max?
The way that campaigns are structured varies. Especially noteworthy in terms of Structure
Asset Groups Ad Groups
Listing Groups Product Groups
Notably, Performance Max may be utilized for lead generation and e-commerce, unlike Smart Shopping.
Performance Max campaigns: Why Employ Them?
PMax expands on the success of Smart Shopping for e-commerce merchants by adding more placements and reach. It functions as a Smart Shopping campaign with display advertisements for prospecting and retargeting added on top.
Performance Max can bring scalability and efficiency for lead generation that may be challenging with only Search and Display. To avoid getting low-quality leads, it will be crucial to feed the system the right signals at the same time. After determining what and why let's move on to the how.
From Smart Shopping Campaigns to Upgrade
Use the one-click upgrade tool on the Recommendations page if you have been utilizing Smart Shopping Campaigns. By using this technique, the past performance of the campaign will be synced on the back end, allowing Performance Max to get started right away.
Check all settings, including Locations, Asset Groups, and Listing Groups. You should add more creative/copy to the Asset Groups because SSC's display ad options are somewhat more constrained. Additionally including Audience Signals is a smart move.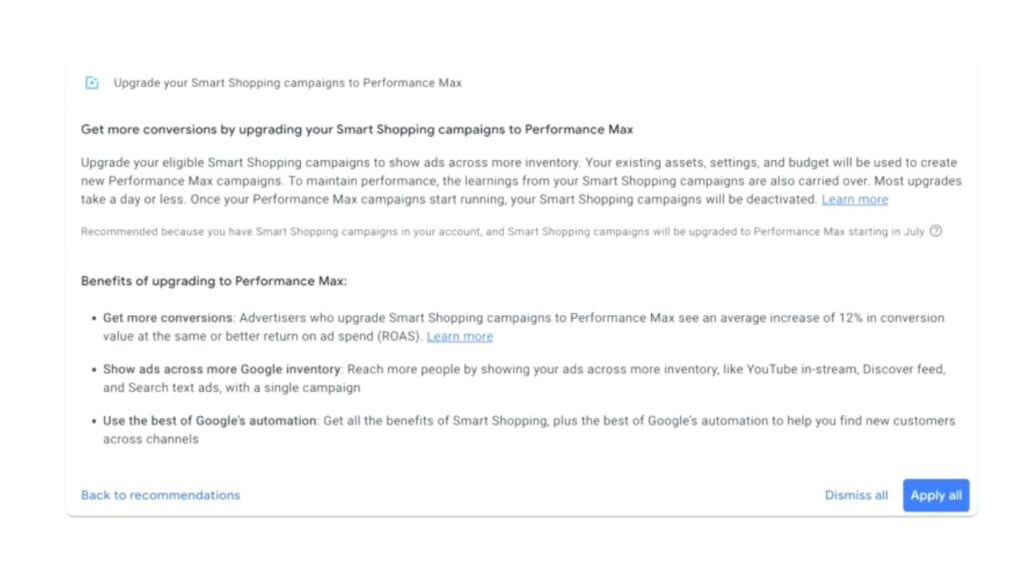 Campaign Organization
What's the ideal PMax structure? It's advisable to compress as much as you can unless you need to divide it into different campaigns for geography targeting or budget allocation. This enables the system to receive more data signals and operate at its best.
You might wish to segregate various products/services into distinct campaigns for reporting reasons because there is no reporting at the Asset Group level.
We strive to simplify as much as we can for retailers with limited product offerings. Always choose simplicity over complication. For the creative and copy to reflect the underlying items or services, we often separate into themes of product/service.
Conversion Objectives
Select the conversion strategies that will work best for your company.
Ecommerce/Shopping: Choose "Purchases"
Lead-Gen/Services: Choose calls, forms, chats etc
Hot tip: Prioritize calls over forms or chats to boost lead quality.
Geographical Targeting
Make Sure to Pick Presence: People in or regularly in Your Targeted Places when setting up your campaign and after selecting your targeted locations.
Assets Group
Your messaging and creative materials should be closely connected to the group's product or service. In the absence of a video, Google will create a subpar one for you. I would strongly advise utilizing Canva or a comparable program to create something simple.
Launching a PMax campaign with no assets other than the data feed for Google Shopping in e-commerce is something worth trying, especially if you've had success in the past with Smart Shopping.
Remark: You'll probably need to establish a new Asset Group.
Exclusions
Customer Exclusion: Upload your customer list to the system to have them removed from all targeting. If you want to concentrate on gaining new customers, this is helpful.
Keywords: If you have a Google representative, ask them to help you restrict branded search keywords on PMax.
Audience cues
Audience targeting is distinct from audience signaling. This serves as a signal for the algorithm to locate your perfect potential consumer.
The following strategies have been effective:
Client compatibility: Upload any lists you have that contain phone numbers and email addresses first. This may be based on earlier practices, email subscribers, etc.
Special Intent: Create a list of your most effective search and standard shopping terms.
Interests: In Google Ads, you may target users based on their predetermined interests.
Users of websites: Using the pixel data from your account, target users. Google will target new consumers using the information you provide about website traffic, leads, and purchases.
Data stream
Product information is the most crucial element in e-commerce. The data feed given to Google Merchant Center can have the most influence on the success of your Performance Max campaign, even while everything else is beneficial.
Make sure you're including as much information as you can:
Brand
MPN/SKU
UPC Number
Descriptive headings that include keywords
Taxonomy/Categorization on Google
Product Category
Picture
Personal Labels, etc.
Bidding tactics
The following two choices are available with Performance Max:
Boost Conversions (with optional target CPA)
Boost Conversion Value (with optional target ROAS)
You can start working on your goal CPA/ROAS immediately away if your account has a tone of previous data. Start with Maximize Conversions when creating a new account so that the system can collect data. Later, when your conversions are consistent, go to CPA or Troas to achieve your objectives.