Pakistan is aiming for a Complete Sweep over the West Indies
(It won't be surprising if the hosts win the last ODI as well, especially with skipper Babar in fine form)
Pakistan is now ranked fifth in the worldwide One-Day International rankings, while the West Indies are ranked ninth, but this isn't the greatest method to explain why the hosts defeated them in the first two matches.
Struggles/Scores of Pakistan and West Indies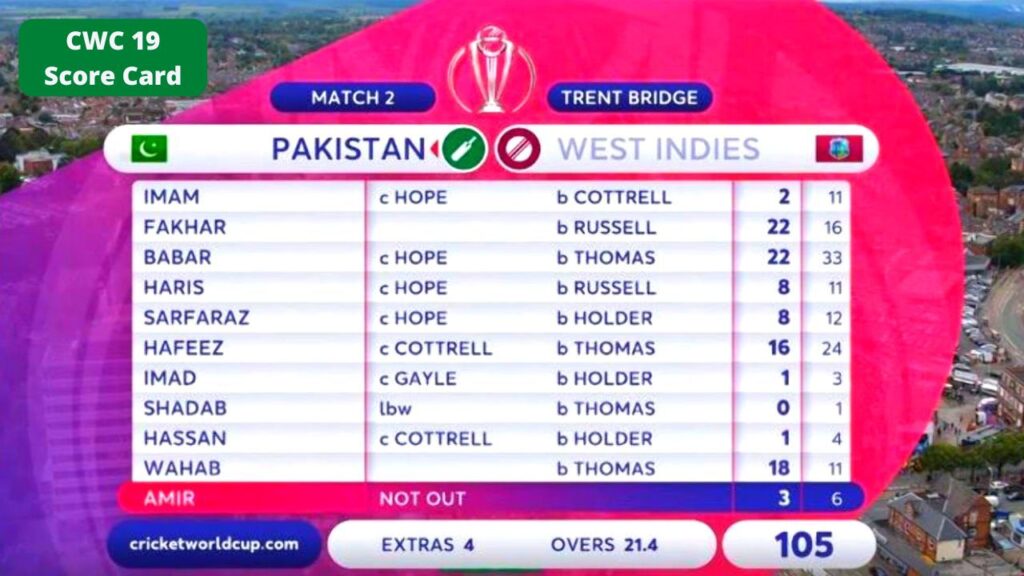 In the last several years, Pakistan has struggled in one-day internationals, but the West Indies have been giving them a run for their money by being worse.
However, if we look at the last two matches in isolation, they were both excellent contests, with each team displaying promise.
The first match was a fantastic example of how ODI cricket has become quicker than before. A total of 300 points does not always imply that the match has swung in one's favor. It simply indicates you have a large number of runs to defend.
West Indies scored 305 runs in the first One-Day International. Pakistan would have liked to limit them to a smaller total so that they could easily cross the finish line. Pakistan took a 1-0 lead in the three-match series because of an in-form Babar Azam and some great hitting from Khushdil Shah towards the end of the chase.
Many thought Babar had lost his Midas touch in all forms after his HBL PSL debacle with Karachi Kings, but he demonstrated why he is one of the finest hitters of this time with captain's hits against Australia and now the Windies.
Meanwhile, with the T20 World Cup in Australia just around the horizon, Khushdil's massive hits were a promising indication for Pakistan.
While the bowlers' efforts should be acknowledged in the first ODI, it would be more accurate to refer to the match as a war of batsmen rather than a bowlers' show.
The second 50-over match took place in the blazing Multan heat, and Pakistan once again showed why they are still regarded as one of the most traditional ODI sides in the world.
History of Pakistan's batting
Pakistan has a history of batting first, putting up a respectable score, and then destroying their opponents with their bowling. The pattern was replicated in the second ODI when they scored 275 thanks to captain-in-form Babar' and opener Imam's fifties.
All-rounder Mohammad Nawaz, who took four for 19 in his ten overs, and bowler Mohammad Wasim, who took three for 34 in 4.2 overs, were the heroes of the day.
To put things in context, Nawaz removed all four middle-order batsmen in the visitors' chase, including Shamarh Brooks, Brandon King, Nicholas Pooran, and Rovman Powell. Other bowlers then pitch in to help Pakistan win yet another ODI series against the West Indies. Since 1991, the Men in Green haven't lost an ODI series versus the Caribbean heavyweights. Since 1991, the Men in Green haven't lost an ODI series versus the Caribbean heavyweights.
Meanwhile, Pakistan is pleased to earn valuable points for the ICC One-Day International Super League, which is designed to help countries qualify for the 2023 World Cup in India.
While Nawaz took center stage in the second match, Babar ensured that he broke the record for most straight fifties in all forms, surpassing former Pakistan batting icon Javed Miandad's mark.
In all forms, Babar's 77 versus West Indies was his eleventh straight fifty-plus score. Miandad had eight straight fifties, while batting giants Rahul Dravid, Misbahul Haq, and Kumar Sangakkara had each struck seven half-centuries in a row.
This further demonstrates that Babar's outstanding form, as well as the efforts of other Pakistani players, puts them in a strong position to win the third ODI and sweep the West Indies.